Bin and Dumpster Rentals Ontario
Our Bins are Driveway-Friendly, and Every One Has Wheels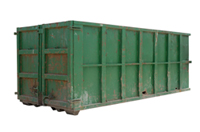 We Specialize in Bin and Dumpster Rentals.
Doing a renovation project, or even just some cleaning, and need a way to tidy up after yourself? Go with our self-service option — we'll deliver a bin directly to your house or business.
We Rent Bins and Dumpsters to Anywhere in Toronto — and Far Beyond, Too.
Check out our locations page
to see the cities we cover — we'll deliver to over 40 of them!
We've Got Multiple Sizes.
With four different sizes available,
any job you're doing — from big to small — will be faster and easier with a bin that fits.
Bin sizes:
6 cubic yards ( 12 x 7 x 2)
15 cubic yards ( 14 x 8 x 4)
20 cubic yards (14 x 8 x 5)
40 cubic yards ( 19.5 long x 8 wide x 7 high)
A Bin Rental is Perfect for the DIY-er.
Like doing everything yourself?
A bin rental is perfect for any project you're undertaking on your own, and you'll save money while doing it, too.
Our Bins Make Your Job That Much Easier.
With easy-to-load bins,
you'll be able to quickly get your junk out of the way. Our bins also have barn doors, which let you walk directly in with your material. Our trucks deliver them directly to your house, letting you do your job with a minimum of hassle.
We Use Only Modern Bins That Are Completely Driveway Friendly.
Our trucks deliver the bins directly
to your driveway, which is always kept safe, thanks to the modern bins we use. Every single bin has rollers and additional protectors to prevent any damage to your pavement.
Wondering What You Can and Can't Put in a Bin?
Virtually everything can go in a bin,
except
, of course, hazardous material. Also, certain materials like soil and concrete can
not
be mixed in with regular garbage. We have bins you can order that exclusively hold either soil or concrete — just talk to us first.
You may also need a permit
if you want to place your bin on the street. For that, just call up your local municipality, or check their website.
The End of the Fine Print — We Promise!
Your garbage neeeds to be level with the top of the container, so don't let anything stick out of the top — we can't transport it otherwise.
You should also double-check your project against this list of
unacceptable materials
, which include:
Hazardous waste, chemical products, medical waste, oil filters, motor oil, transmission oil, oil drums, herbicides & pesticides, solvents, paint (unless completely dried latex paint cans), other flammable liquids, propane tanks, appliances (fridge, freezer, A/C or any other appliance that contains Freon), soil (unless soil only bin is ordered), concrete (unless concrete only bin is ordered), tires, batteries, monitors, fluorescent tubes, asbestos, animals, all liquids.
Give us a call now for further details on 1-888-586-5784